Interview with Thomas Ebeling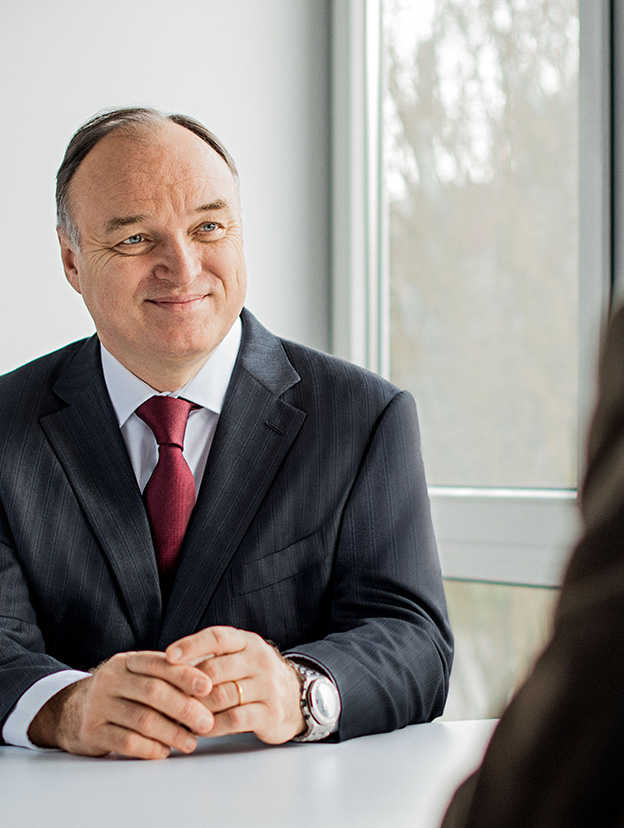 Looking back to the 2016 financial year, CEO Thomas Ebeling explains how ProSiebenSat.1 is advancing digitalization and networking within the Group in order to sustainably continue its growth course.
Mr. Ebeling, how would you describe the 2016 financial year?
In 2016, we once again posted record figures for revenues and earnings. Since 2009, consolidated revenues have grown year after year by an average of 10 %, while the rise in recurring EBITDA has been even slightly stronger. That's testimony to how sustainable our strategy is. ProSiebenSat.1 is the first media company to systematically harness the synergies generated by combining TV, digital entertainment, commerce, and content production.
Is that why the title of your Annual Report is "Connecting the Dots"?
Tapping into synergies within our portfolio lies at the very heart of our strategy. By networking within and among our segments, we are not only creating additional growth potential but also harnessing the opportunities generated by digitalization: TV commercials aired on our own stations raise awareness for our own brands, such as our e-commerce offerings. At the same time, our digital platforms afford in-depth insights into consumers, which will benefit our advertising clients going forward in addressing their campaigns to target audiences. That's just one example of our "Connecting the Dots" roadmap to success.
3.799
BILLION EURO
of revenues were generated by ProSiebenSat.1 Group in financial year 2016.That is an increase of 17 %.
You have grown organically but also recently expanded through acquisitions. Will this development continue?
The huge potential unleashed by combining TV, digital entertainment, and commerce gives us a winning competitive edge. What's more, it lays a solid foundation for our organic growth in the digital sector. There, we are expanding dynamically thanks to strategically relevant brands such as maxdome and our Lifestyle Commerce portfolio. At the same time, acquisitions accelerated our growth over the past year so that we once again raised our financial targets for 2018 in October 2016. Our consolidated revenues are set to amount to EUR 4.5 billion in 2018. Our digital business will contribute a total of EUR 1.7 billion to this revenue target. This is in line with our vision and strategic objectives to pursue further expansion through our digital portfolio and position the Group as a leading "Entertainment & Commerce Powerhouse."
What is your acquisition strategy for the coming years?
Basically, we hold on on to our leverage ratio target range and focus on potential acquisitions that complement and add value to our portfolio. This includes companies that are suitable for marketing through TV advertising and promise high synergy potential with our existing business areas. We intend to continue this M&A strategy. With that in mind, we are keeping a close eye on the relevant markets and broadened our financial scope through a capital increase in November 2016. Of course we evaluate all options for our portfolio, which may include potential divestments or strategic alliances if they are to our advantage. In January 2017, for instance, we took two European partners – TF1 and Mediaset – on board of our multi-channel network Studio71.
In March 2016, ProSiebenSat.1 became the first DAX-listed media group. What makes your stock so attractive to investors?
We are growing dynamically and pursuing a sustainable corporate strategy with concrete goals – which we consistently reach and sometimes even surpass. What's more, we pay out between 80 and 90 % of our underlying net income as a dividend each year. And this year is no exception: We plan to increase the dividend for 2016 to EUR 1.90 per share to let participate our shareholders once again in our success. We have not only earned a reputation on the capital markets as a highly reliable partner but also impressed investors with how rapidly we develop business models. Our bold approach to experimenting with new ideas means that we are an engine for progress. Just look at maxdome. In 2006, it was the first video-on-demand service in Germany. In 2016, we launched another two innovative online video products – glomex and Quazer. And with addressable TV, we have assumed a pioneering role by connecting the benefits of the media types TV and Internet in marketing. This entrepreneurial spirit and innovative drive are deeply rooted in our Group and characterizes our employees.
1.018
BILLION EURO
of recurring EBITDA was reached by the Group in 2016, 10 % more than in the previous year.
Let's turn to the operating business. How did the TV segment develop in 2016?
ProSiebenSat.1 ranks number 1 among TV viewers and advertisers in Germany. A year of sporting events like 2016 is always a challenge for private TV stations. However, we aired compelling programming such as "The Voice of Germany" and "Germany's Next Topmodel" in addition to launching new show ideas with Joko and Klaas. At the same time, we are continually expanding our reach and viewer offerings. Last but not least, 2016 saw the launch of kabel eins Doku, our seventh free TV station, which offers our advertising clients another attractive marketing environment. Furthermore, our distribution business continued to grow dynamically and we succeeded in forging a large number of key alliances – with Vodafone, for instance – to support the mobile distribution of our programs.
What role will the TV business play within ProSiebenSat.1 in the future?
TV is and remains the basis of our success: It's still the most effective advertising medium and has the widest reach across all relevant audience groups in Germany. Consequently, we expect the TV advertising market to deliver solid net growth of between 2 to 3 % in 2017. In this respect, the German TV market differs fundamentally from its UK and US counterparts. As an advertising medium, TV in Germany still has plenty of potential because, in contrast to the English-speaking markets, it has not yet fully capitalized on its reach. Add to that the structural changes taking place in the German advertising market: Video advertising is becoming increasingly important and is gaining market share – above all from print – in the wake of digitalization. At the same time, technological change and the growing use of the Internet are having an impact on media usage behavior. We are thus pursuing a digital entertainment strategy. With maxdome, Studio71, and many more digital offerings, our high-quality entertainment is also available on demand, online, and mobile.
1.90
EURO
per common share
is the proposed dividend.
How do you benefit from digitalization in the TV segment as well?
The best example is addressable TV: Smart TVs let us focus advertising selectively, depending on the weather, for example. It's worth advertising flu remedies where it's raining. If at the same time the sun is shining in another area, an advertising banner for sunscreen pops up on TVs there. With addressable TV, we have created a new form of advertising within the broad-reach medium of television that lets companies address their customers not only quickly and effectively but with even greater target group focus. And this is yet another area where we benefit from synergies in the Group: Our weather portal, wetter.com, gives us the data we need for the weather targeting I just mentioned. We are dynamically pushing ahead with these innovations, and already executed around 100 addressable TV advertising campaigns in 2016. This way, we have additional offerings for our advertising clients next to traditional commercials and can make TV advertising even more relevant to viewers.
You have been reporting your digital activities in two segments since the third quarter of 2016. How was business in Digital Entertainment for the full year?
Our revenues rose by 19 % in this segment, with the core areas video and AdTech developing very dynamically and benefiting from acquisitions. The video-on-demand portal maxdome topped one million subscribers for the first time. Also in 2016, we signed a multi-year cooperation agreement with Deutsche Bahn that will make maxdome available on all ICE (intercity express) trains in the future. With the TF1 Group and Mediaset, we brought in two European partners for Studio71, which gains us access to new markets. I also see great potential in AdTech, since these technologies help us automate and tailor the way advertising is integrated. That's why we continued to invest here as well. We now cover every step in the value chain, providing not only digital and TV data but also the necessary technical expertise.
65
PERCENT
to EUR 768 million was the rise in external revenues in the Digital Ventures & Commerce segment.
How did business in the Digital Ventures & Commerce segment perform in 2016?
With a 65 % rise in revenues, this segment was our biggest growth driver. Acquisitions such as the online air travel portal etraveli and the price comparison portal Verivox accelerated this substantial and at the same time profitable revenue increase. Plus, our purchase of the PARSHIP ELITE Group in the fourth quarter of 2016 added another strategic acquisition to our commerce portfolio. This opened up a new growth market for us. With Parship and ElitePartner, the company runs the already leading online dating portals in the German-speaking region. However, their success can be boosted still further through TV advertising. The majority stake in Parship was our third major acquisition in the digital sector within 18 months. Now we are structuring our commerce investments into the four verticals Online Travel, Online Price Comparison, Online Dating, and Lifestyle Commerce.
To what extent are these investments ­benefiting from synergies in the Group?
The greatest leverage is in TV advertising. We can clearly see that our investments are reaping major benefits from advertising time on our TV stations. Verivox is one such success story. Within a year of being integrated into our Group, revenues of the online comparison portal were up nearly 40 %. But that's not all. We are also generating synergies within and among our verticals by connecting the platforms. That's why we integrated the weg.de and billiger-mietwagen.de offerings into the Verivox comparison portfolio in 2016. All these companies benefit from one another by extending their reach and thus expanding their customer base. And, in turn, we can offer our users added value by pooling the services we provide. The next step is embedding our various health, wellness, and fashion offerings into a 360-degree Lifestyle Commerce ecosystem in order to accompany consumers along their entire customer journey. Part of this is our 2016 investment in WindStar Medical, for example. Their health products are sold both online and in drugstores.
What are you focusing on in the Content Production & Global Sales segment?
Revenues in this segment increased by 38 % in 2016, marking another year of strong growth, both organically and through acquisitions. Our production business in the US was instrumental to this success: Red Arrow now generates over 70 % of revenues in the world's biggest TV market. Alongside this US focus, we are also expanding the collaboration between Red Arrow and our TV stations in Germany. Our goal is for more and more local productions to come from the Red Arrow network, so we can strengthen our program supply with attractive content. We made major strides here in 2016. Red Arrow's German subsidiary Redseven Entertainment, for example, successfully produced the dating show "Kiss Bang Love" for ProSieben. The show originated with the Danish Red Arrow subsidiary Snowman Productions and is a good example of how we plan to use the international ideas from this network even more for ProSiebenSat.1. Again, this illustrates how we generate synergies within the Group and what we mean by "Connecting the Dots."
4.5
BILLION EURO
in revenues is ProSiebenSat.1's
target for 2018.
Is your vision of positioning ProSiebenSat.1 as an omnichannel group also based on this idea?
Yes, definitely. In the coming years, we aim to evolve ProSiebenSat.1 into a leading "Omnichannel Entertainment & Commerce Brand Powerhouse." In other words, we want to create relevant thematic worlds and marketing environments for our own products and those of our advertising clients. The only way we will make that work is by connecting our business areas in the best possible way as well as by offering consumers an integrated shopping experience. To make that happen, we plan to extend our trade chain from TV through digital to the point of sale. Here, too, networking our entertainment and commerce businesses will work to our advantage. That sets us clearly apart from our competitors.
What goals are you pursuing for 2017 and beyond?
We got off to a good start in the first quarter and aim to ­continue our significant growth course throughout the year – both organically and through acquisitions. Overall, our goal for 2017 is to increase Group revenues by at least a high single-digit percentage. All segments will contribute to that. This means we are right on track to attain our 2018 financial targets. We can reach them purely through organic growth. In other words, further acquisitions would generate additional revenue and earnings potential. In our core business TV, we are growing steadily with a high earnings margin, and at the same time expanding dynamically in our other segments. I am confident that, from this position of strength, we will ­continue to advance ProSiebenSat.1 sustainably and successfully on its growth path.