Opportunity Report
Growth opportunities are identified as part of the Group's opportunity management and specified in the planning process.
Acquisitions have additional potential.
Opportunity Management
Our opportunity management is part of the intragroup management system. The aim is to identify and seize opportunities as soon as possible using suitable measures. At ProSiebenSat.1 Group, the management of opportunities is decentrally organized in the business units and is supported and coordinated by the "Strategy & Operations" department. The department is in close contact with the individual operational units. This allows the department to gain detailed insight into the business situation. In addition, market and competition analyses and sharing experiences with external experts are important sources to identify growth opportunities for ProSiebenSat.1 Group. Defined opportunities are reported in the strategy plan. Relevant growth opportunities are prioritized, specific objectives are derived, and measures and resources for operational target attainment are determined (Fig. 98).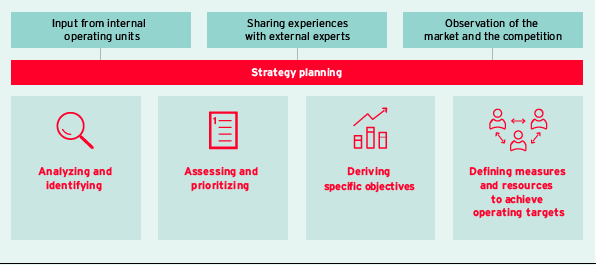 Explanatory Notes on Key Opportunities
We have incorporated opportunities that we consider to be highly likely in our forecast for 2017 and in our medium-term planning until 2018. We report on these growth opportunities in the Company Outlook. In addition, there is potential that has not yet been or not fully been budgeted for (Fig. 99). For instance, this potential may arise from strategic measures or a change in general conditions. In the section below, we report on these opportunities if they are material and important for the planning period until 2018.
Key additional opportunities (Fig. 99)

Probability

Change vs. previous year

Corporate strategic decisions:

>

Digitalization of TV advertising

Possible

Unchanged

>

Entry into business areas with strong growth by expanding the portfolio:

— M&A measures alone or with strategic partners

Possible

Unchanged

— Sale of own physical products at point of sale

Possible

New

Development of general conditions:

>

Economic and sector-specific data or regulatory changes

Possible

Unchanged
Additional Opportunities from Corporate Strategy Decisions
Social, technological and economic areas have significantly changed as a result of digitalization. This trend will continue in the years to come. The media industry was one of the first industries to be shaped by the effects of digitalization. Television content can be accessed at any time and be placed on TV screens and other devices, such as smartphones or tablets. Therefore, ProSiebenSat.1 Group has been rigorously pushing ahead with its transformation from a traditional TV company into a digital corporation with a diversified business portfolio since 2009. The Group is developing new business models, using digital technologies and tapping into additional markets with acquisitions.
Digitalization of TV advertising: ProSiebenSat.1 Group is consistently linking its television business to digital entertainment media and expanding its reach in this way. Together with its subsidiaries, SevenOne Media and SevenOne AdFactory, the Group is Germany's most innovative TV marketer and offers its customers coordinated campaigns on all platforms, including TV, online, mobile and social media. ProSiebenSat.1 is focusing on new technologies. For instance, we were the first TV group in Germany to broadcast addressable TV campaigns with the hybrid broadcast broadband TV (HbbTV) technological standard. These advertisements combine the high reach of traditional television with the opportunities provided by digital advertising, including target-group-based advertisements individualized to devices (targeting). This is offering ProSiebenSat.1 additional growth prospects.
Weather targeting is an example in this context: We derive the regional location of Internet-enabled televisions from their anonymized IP addresses and can thus use regional weather data to selectively adjust TV advertising to fit the current weather situation in the region. Within the limits of what is legally possible, we aspire to increasingly use data on our digital platforms and online TV use in order to target viewers with advertising on our stations in a more personalized way. On the basis of general market trends, the Group has identified market growth of up to EUR 125 million (net) in the years to come resulting from addressable TV that has been reflected only partially in our budget so far.
Entry into business areas with strong growth by expanding the portfolio: The mail order business is growing dynamically. According to the joint study by EHI, HDI, Kantar TNS and KPMG, 12 % of total retail was generated via mail order in Germany at the end of 2015; 90 % of this amount was attributable to the Internet. This equates to revenues of approximately EUR 47 billion.
ProSiebenSat.1 Group is expanding its portfolio in order to maximize its participation in the growing online business. At the same time, ProSiebenSat.1 is deepening the value chain with the aim of increasingly offering its own products and mapping the entire retail chain, both digitally and offline. Products and services that add value via the mass medium of TV and that can be linked particularly well to the existing digital portfolio are particularly relevant for ProSiebenSat.1 from a strategic point of view. This is a key pillar of our M&A strategy.
The Group bundles its commerce investments by topic into four verticals (Fig. 100), resulting in revenue and cost synergies. At the same time, the Group quickly and efficiently increases the revenues of its investments with relatively low marketing costs and without high cash investments via TV and online advertising. In 2016, the digital commerce portfolio was the Group's most significant revenue driver. The successful M&A strategy, which focuses on synergies between TV and digital assets, has strengthened the Group's profit growth in the long term.

In recent years, the Company expanded its digital portfolio, particularly with smaller investments or media-for-equity or media-for-revenue-share investments, and collaborated with strategic partners. Since the second half of 2015, larger acquisitions have also been made with etraveli, Verivox (both in 2015) and PARSHIP (2016). These acquisitions have accelerated our profitable revenue growth once again. As a result, we increased our medium-term revenue targets again in October 2016. The consolidation effects of M&A measures could enable us to exceed our forecasts. Further M&A measures thus offer additional opportunities.
In November 2016, ProSiebenSat.1 increased its financial headroom for future acquisitions in the digital business with a capital increase and is continuously examining whether attractive opportunities for acquisitions or collaborations exist. In addition, the Group will take greater advantage of potential synergies and further increase the efficiency of its investments by interlinking. In the commerce business, ProSiebenSat.1 is developing an ecosystem for lifestyle, health and wellbeing offers. Here, the Group already possesses a diversified portfolio that includes Stylight, a fashion platform, Flaconi, an online perfume shop, and 7NXT's digital fitness offers. Our lifestyle commerce business is developing dynamically and profitably and we expect average revenue growth of 20 % to 30 % in the medium term.
The goal is now to develop entertainment offers that are optimally geared towards our lifestyle products and that accompany users on their customer journey – from the TV programme to the point of sale. Against this backdrop, the Group invested in WindStar Medical in 2016. Over 300 items of the group can now be found on the shelves of German retailers that offer health items. WindStar is a leading provider of health items on the German market, but its brand awareness could still be increased with advertising on TV, which is the medium with the highest reach. This will be followed by other expansions of the portfolio in order to cover the wide spectrum of consumer needs and use all distribution channels. There is significant potential here as consumers and young customers, known as digital natives, now determine themselves when they want and where they want to see offers or products. ProSiebenSat.1 is therefore reacting to changes in consumer behavior. Commerce and entertainment are merging like never before as various media and channels are being used simultaneously. This is the core of our omnichannel strategy.
Additional Opportunities from the Development of General Conditions
In 2016, the German economy continued to grow moderately and private consumer spending reached a new record level. We also expect external conditions to develop positively in the future. The TV advertising market is benefiting from digital development at the same time. Advertisers are increasingly shifting their budgets to print and video advertising. In this context, ProSiebenSat.1 identified an additional market potential for TV advertising from print spendings totaling around EUR 2.5 billion (net). As a result, we have taken net market growth in the low single-digit percentage range as the basis for our budgets for the TV advertising market in Germany and also expect stable growth rates of 2 % to 3 % on average on our core market in the years to come.
Positive deviations from these key planning assumptions could accelerate profitable growth for the Group as a whole. In addition, regulatory changes could have a positive impact on revenue performance. Additional revenues for private providers could result from a reduction of advertising offered by public stations in particular. In this context, ProSiebenSat.1 identified an additional market volume of up to EUR 300 million per year. As the leading marketing company, the Group would significantly benefit from a ban on advertising for public broadcasters.