Content Highlights 2016
HITTING THE RIGHT NOTE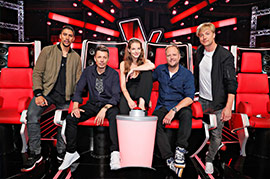 It's nothing but the Voice: SAT.1 broadcast the sixth season of "The Voice of Germany" for the first time on Sunday, thus scheduling the long-running hit show on the TV evening with the highest reach of the week. And this proved successful, as Germany's most popular musical casting show regularly made both ProSieben and SAT.1 market leaders with top ratings of 23.3 % (ProSieben) and 20.6 % (SAT.1). An average of 17.3 % of viewers aged 14 to 49 tuned in to the emotional search for Germany's most talented singer.
IT'S SHOWTIME!
Fantastic Saturday night shows were ProSieben's flagship product again in 2016: In "DIE BESTE SHOW DER WELT", the studio audience even got to choose the "show in the show." Within the relevant target group for ProSieben (14- to 39-year-olds), up to 24.5 % of viewers followed Joko Winterscheidt and Klaas Heufer-Umlauf's ratings duels. "Schlag den Star" also kept viewers on the edge of their seats with exciting duels: The new version of the format with Elton as the presenter achieved a market share of up to 18.2 % among viewers aged 14 to 49. Top (sports) performance was also displayed by the 48 celebrity dodgeball players in "Die große ProSieben Völkerball Meisterschaft," attracting a very good market share of 14.9 % of viewers aged 14 to 49.
BIG BUSINESS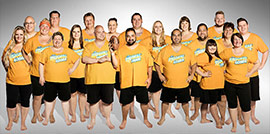 Up to 16.4 % of viewers aged 14 to 49 joined the candidates of "The Biggest Loser" in celebrating every kilo they lost. The SAT.1 hit show with coach Christine Theiss, which achieved an outstanding series average of 13.4 % among 14- to 49-year-olds in 2016, will begin its ninth season in 2017. Meanwhile, the search for Germany's best amateur baker featured far more calories but was equally successful: "Das große Backen" achieved ratings of up to 17.4 % among 14- to 49-year-olds. The third season of "Hochzeit auf den ersten Blick" also achieved good market shares of up to 13.3 % of 14- to 49-year-olds.
AN IMPRESSIVE START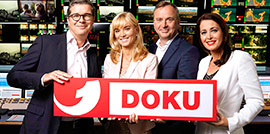 Awe-inspiring nature documentaries, fascinating history features and gripping real crime shows: That's kabel eins Doku, ProSiebenSat.1 Group's seventh free TV station. The documentary channel was launched in September 2016. With well-known international formats such as "Anthony Bourdain – Kulinarische Abenteuer," kabel eins Doku already achieved a market share of up to 1.5 % in its first week in the relevant target group of male viewers aged 40 to 64.
SWEET TREATS AND HOT BITS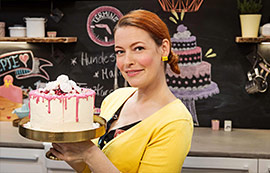 Enie van de Meiklokjes is back with more cakes and pastries in the new episodes of "Sweet & Easy — Enie backt". The show achieved a market share of up to 4.2 % of 14- to 49-year-olds and as much as 8.5 % in the relevant target group (women aged between 14 and 39). And it wasn't just baking that was making things hot on sixx — Paula Lambert's show "Sex und gute Nacktgeschichten" remains a firm feature of this women's channel. In her documentary series "So kommt Deutschland" up to 3.9 % of the channel's target audience of 14- to 39-year-old women accompanied Paula and her husband on their sensual road trip across Germany.
LIFE IS AN ADVENTURE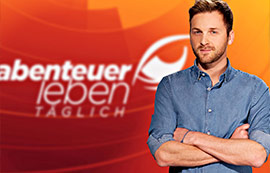 On kabel eins, factual programs produced in-house were a big hit again in 2016. In "Achtung Abzocke — Urlaubsbetrügern auf der Spur," journalist Peter Giesel exposed tourist traps at holiday hotspots all around the world. Up to 8.9 % of viewers aged between 14 and 49 tuned in to the documentary series. Fascinating reports on the big and small adventures of (everyday) life were also to be found in the popular general knowledge magazine programs "Abenteuer Leben täglich" and "Abenteuer Leben am Sonntag": They likewise achieved very good market shares among 14- to 49-year-olds at up to 9.0 % and 8.5 % respectively.
TV WITH A BIG HEART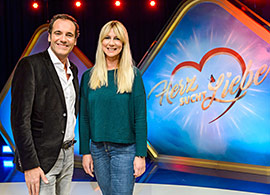 SAT.1 Gold showed its particularly emotional side with two new in-house productions. With the dating show "Herz sucht Liebe", the nostalgia and service channel claimed market shares of up to 1.8 % of 14- to 49-year-old viewers. "Haustier sucht Herz" also helped bring new friends together: The first animal adoption day to be broadcast live on German TV helped 20 four-legged friends to find a new home and achieved an excellent market share of 3.4 % in the relevant target group (women aged 40 to 64).
SWISS CUISINE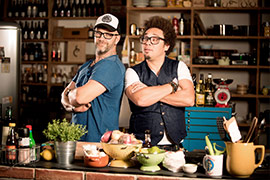 In the first season of the in-house production "Schudel on the Rocks" on ProSieben Schweiz, René Schudel teamed up with famous Swiss musicians to whip up their favorite dishes. The TV chef brought in market shares of up to 11.4 % of 15- to 49-year-olds. "LandLiebeTV," which features reports on Switzerland and its people accompanied by related Swiss specialties prepared by TV chef Andreas C. "Studi" Studer, also started off its third season on SAT.1 Schweiz with a very good market share of 6.0 %.
IT'S A MAN'S THING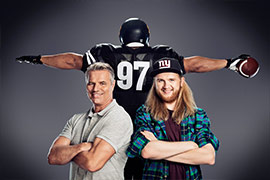 ProSiebenMAXX achieved excellent ratings with the National Football League again in 2016. In addition to many live games, the fans were particularly enthusiastic about the weekly football magazine show #ranNFLsüchtig, which drew market shares of up to 6.5 % in the relevant target group of 14- to 39-year-old men. And the barbecue lovers from "Beef-Battle — Duell am Grill" were just as fired up. This ProSieben MAXX in-house production proved popular with viewers aged 14 to 49, reaching market shares of up to 3.1 % here. In the relevant target group, the format achieved excellent market shares of up to 5.3 %.
THIS ROCKS!
Since May 2016, Hollywood action star Dwayne "The Rock" Johnson and Seven Bucks Production have been producing action-packed video content together with Studio71. In its first five months, the Youtube channel "The Rock" already attracted a million subscribers and an average of seven million video views per month. It will be followed by more channels with celebrities from all different areas. Studio71 pools the web-only content of the broadcasting group as well as that of web stars and content partners from a wide variety of genres. This multi-channel network from ProSiebenSat.1 Media SE is the leading provider of web productions in the German-speaking region and among the top four worldwide.
ELECTION FEVER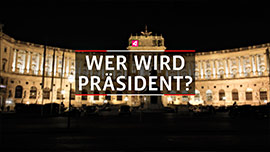 It wasn't just in the USA that election fever reigned in 2016: In Austria, too, the year was dominated by presidential elections. On PULS 4, the political program "Wer wird Präsident?" was therefore one of the most-watched formats of the year, with market shares of up to 14.8 % in the relevant target group of 12- to 49-year-olds. The heavyweight round including all six candidates was followed by a duel in which Norbert Hofer and Alexander Van der Bellen went head-to-head.
PRIME VIEWING
With more than six million clicks, the first two seasons of the web series "Der Lack ist ab," produced by the ProSiebenSat.1 subsidiary 7NXT, were already a complete success. And because the show — unlike its middle-aged protagonists — is far from past its prime, the ten new episodes of the third season were broadcast exclusively on Sat1.de and for the first time on Facebook. The chaotic couple played by Bettina Zimmermann und Kai Wiesinger achieved around 500,000 cross-platform video views. The series also was the Best International Comedy Format at the Melbourne Web Festival in 2016.