Strategy and Management System
ProSiebenSat.1 is the first media corporation to implement the combination of TV, content production, digital entertainment and e-commerce, and to consistently leverage the resulting synergies.
The most important goal is to grow sustainably and profitably in a dynamic competitive environment. Consolidated revenues are expected to rise to EUR

4.5 billion

by the end of 2018, which is EUR

300 million

more than originally expected.
We have a holistic management system. This system reflects both growth targets and the interests of investors, including efficient financial planning and an earnings-oriented dividend policy.
Vision and Strategic Objectives
ProSiebenSat.1 Group's most important goal is to seize opportunities in a changing market environment and to secure dynamic and profitable growth in the long run. To this end, the Group is rigorously pushing ahead with its transformation from a traditional TV company into an integrated entertainment and commerce corporation and diversifying its portfolio. We are expanding our offers based on the high reach of TV. Thanks to our digital entertainment offerings, we deliver viewers and users attractive entertainment at any time and place. At the same time, we are using our high TV reach to establish a dynamically growing commerce business with leading brands by advertising them on our TV stations. ProSiebenSat.1 is the first media company to implement a combination of traditional linear TV, content production, digital entertainment and e-commerce, and consistently utilize the resulting synergies.
At the Capital Markets Day in October 2016, the Executive Board presented the development of the Group strategy beyond 2018. Our vision is to transform ProSiebenSat.1 into a leading omnichannel entertainment and commerce brand powerhouse with a global presence in the years to come. With everything we do, we want to delight, inspire and support those who use our offers — and offer our advertising customers unique added value.
Areas of Growth by Segment
We are seizing the opportunities provided by digitalization in all segments in order to drive growth. The Group has therefore set itself the following goals (Fig. 26):
Growth measures by segments (Fig. 26)

Broadcasting German-speaking segment

> We are creating relevant advertising environments that focus on specific topics.
> We offer added value for our advertising customers via innovative marketing and targeting tools such as addressable TV.

Digital Entertainment segment

> We are offering all forms of media usage and strengthening our market leadership in Germany.
> We are internationalizing our business with partnerships and acquisitions.

Digital Ventures & Commerce segment

> We are investing in a commerce portfolio with strong growth and are benefiting from synergies with our TV business.
> We are establishing a Lifestyle Commerce ecosystem and are thus offering a holistic shopping experience.

Content Production & Global Sales segment

> We are expanding our business with a focus on the US and consolidating our portfolio.
> We are leveraging synergies within the Group with a digital content production ecosystem.
Broadcasting German-speaking Segment
TV is the most widely used medium in Germany. The high and combined reach that advertising customers are able to achieve with TV advertising is constantly gaining significance due to changing usage habits. At the same time, ProSiebenSat.1 is consistently investing in technological innovations to ensure that television continues to be the most effective advertising medium with the widest reach for our customers in the future. New stations and a continuously good supply of high-quality content underpin our reach. These form the basis for our success in the sale of advertising and distribution, which are bundled in the Broadcasting German-speaking segment in addition to the TV stations.
We are creating relevant advertising environments by focusing on specific topics: Since 2010, the Group has launched three new special interest stations in Germany with sixx, SAT.1 Gold and ProSieben MAXX. This was followed by another special interest station, kabel eins Doku, in the fall of 2016. Today, ProSiebenSat.1 has a station profile on its main revenue market, Germany, that is made up of seven brands that complement each other and target different viewer groups (Fig. 27). For instance, kabel eins Doku focuses on documentaries and reports about history, real crime, nature, technology and thus predominantly covers the interests of male viewers. In the future, a large portion of investments will continue to be made in programs and particularly in the major stations SAT.1 and ProSieben. In 2016, programming investments amounted to EUR

992 million

(previous year: EUR

944 million

). At the same time, the Company is seeking to further expand its share in in-house formats. Content developed in-house can be tailored more precisely to the brand profiles of individual stations than licensed programs.
The new stations have strengthened our position on the audience market. At the same time, the expansion of the portfolio is having a positive impact on marketing. The new stations are geared towards target groups that were previously taken into account to a lesser extent, and also offer attractive marketing environments beyond the SAT.1 and ProSieben core brands. The Group is thus expanding its reach and creating advertising environments on TV that were previously covered by print media in particular and addressing new customers in a targeted manner. At the same time, a stronger focus on program window topics offers the opportunity to further differentiate advertising offers. Firstly, this gives us the opportunity to adjust advertising to the target groups of our customers more precisely. We are also creating environments that focus on specific program window topics in which we place our own commerce offers based on the relevant target group, allowing us to optimally connect television to our digital offers.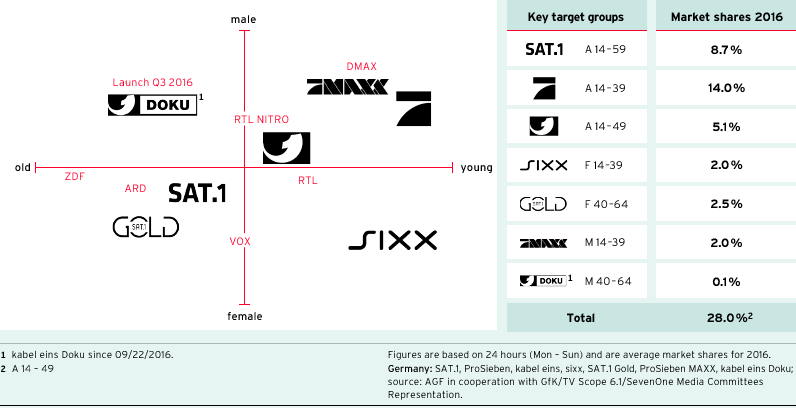 We offer added value to advertising customers via innovative marketing and targeting tools such as sddressable TV: ProSiebenSat.1 is leading in the German TV advertising market and stands for innovative advertising concepts. Together with the SevenOne Media and SevenOne AdFactory subsidiaries, the Group is supporting its advertising customers and agencies by finding ideas and concepts and implementing them. ProSiebenSat.1 is able to increase the return on investment (ROI) of advertising campaigns with cross-media solutions and combine the reach of TV with the advantages of digital media. This integrated approach is a key competitive factor.
The Group is continuously developing new forms of advertisement and designing campaigns that incorporate various platforms and communication channels based on the main medium of TV. In 2016, the Group entered into digital out-of-home advertising, giving its customers the opportunity to place their content directly at the point of sale via digital screens. At the same time, ProSiebenSat.1 is focusing on new technologies to develop tailored advertising tools. Addressable TV is one example here: With the hybrid broadcast broadband TV (HbbTV) technical standard, advertising can be adjusted selectively, based on the weather in the region of the viewers concerned, for example. As a result, addressable TV combines the high reach of television with the advantages of online marketing, addressing target groups in a direct and selective manner. Since 2015, our advertising customers have the opportunity to book so called targeting on HbbTV. In 2016, the Group implemented around 100 addressable campaigns for 50 customers. The potential to grow is significant: With addressable TV, TV ads can highlight new things and become even more interesting for viewers and thus more relevant compared to other media.
Digital Entertainment Segment
ProSiebenSat.1 pursues a digital entertainment strategy and covers modern forms of media use in this way. We use our diversified portfolio made up of TV and digital brands for cross-media advertising concepts. Digital development has moreover introduced new refinancing models for us. In addition to advertising revenues, ProSiebenSat.1 is generating subscription- and transaction-based revenues in the Digital Entertainment segment, for instance, with maxdome's video-on-demand (VoD) offers.
We are offering all forms of media usage and strengthening our market leadership in Germany: The Company is the leading seller of video content in Germany and offers its customers a high advertising reach with digital media as well. ProSiebenSat.1 reaches around

30 million

unique users every month in the German market with advertising-financed online websites alone. Our accompanying research has shown that online advertising combined with TV campaigns is particularly effective. We benefit from this media mix in both the advertising and audience markets: With this multimedia approach, we are strengthening viewer retention, ensuring the relevance of TV content, even in young target groups, and are offering our advertising customers an attractive marketing portfolio.
In the field of marketing, digitalization is also offering us new opportunities to adjust advertising on online-based media in real time. At the same time, we are able to generate valuable data about target groups by analyzing usage in order to place our own offers and those of our advertising customers in a more personalized way. For this reason, ProSiebenSat.1 acquired a majority stake in Virtual Minds AG and SMARTSTREAM.TV in 2015. The technology of these two companies allows for the automated provision of digital advertising (programmatic advertising). With these investments, we are combining the advantages of television and its high reach with the opportunities provided by the digital world for our customers while further strengthening our market leadership.
In addition, the Group is continuously expanding its reach. For instance, ProSiebenSat.1 launched its own app for every TV station in 2016. As a result, users can watch our programs live or after they have been broadcast. At the same time, ProSiebenSat.1 is expanding its portfolio with distribution partnerships. In 2016, ProSiebenSat.1 entered into a collaboration with Deutsche Bahn for the VoD portal maxdome, the first and only video service available on the ICE portal. In Germany, around 80 million people travel on Deutsche Bahn's ICE trains every year. We generate additional revenues in this way and secure our market presence, also in the world of digital media.
We are internationalizing our business with partnerships and acquisitions: Digital video entertainment is a global market. For this reason, the Group is supplementing its profile with international brands.
In 2015, it acquired a majority stake in the US multi-channel network CDS. ProSiebenSat.1 was already leading in this segment in Germany and has integrated the brand into its own platform, Studio71. In 2016, the Group had 60 billion video views and is now one of the four largest multi-channel networks in the world. Following this model, in 2016 a minority stake in Pluto Inc., a US company, was acquired. The company operates an online TV service with over 100 linear live channels. This video platform was merged with Quazer, ProSiebenSat.1's German linear streaming service. Part of this internationalization strategy also includes partnerships, for instance, a media alliance with European media corporations. In this context, ProSiebenSat.1 Group entered into a strategic partnership with the TF1 Group (France) and Mediaset (Italy) in January 2017. Both of these media groups have invested in Studio71. As a result, this MCN has tapped into additional key European markets after Germany, the USA, Canada, the United Kingdom and Austria. The Group also intends to further strengthen its global focus via partnerships or other acquisitions in the future and to make use of its expertise to develop new brands.
Digital Ventures & Commerce Segment
Raising brand awareness quickly is a decisive competitive factor, especially for young companies in an early stage of development. We therefore use our wide reach in TV and on digital platforms to enhance our portfolio with commerce platforms and business models. We tap into new market segments and finance our growth in line with the "reach meets ideas" principle. Our e-commerce portfolio has now become our largest revenue growth driver and is making a significant contribution to the expansion of the digital business. The Group will continue to focus on this in the future and will expand its commerce portfolio. Secondly, the Group is focusing on the development of a Lifestyle Commerce ecosystem.
We are investing in a commerce portfolio with strong growth and are benefiting from synergies with our TV business: ProSiebenSat.1 Group reaches

42 million

households every day with its TV stations in Germany, Austria and Switzerland. Our advertising customers benefit from this reach. At the same time, the Group is using its media services to develop digital business areas, for instance, in the e-commerce areas of Online Travel, Lifestyle Commerce, Online Dating and Online Comparison Portals. The Group is advertising its own products and brands on its TV stations. In addition, ProSiebenSat.1 is acquiring new companies and accelerating growth using free advertising time.
In the past two years, ProSiebenSat.1 increasingly made larger acquisitions, for example the takeover of the comparison portal Verivox in 2015. By doing so, the Group tapped into a new growth market. Verivox already had a leading market position, but its success can be further increased with advertising on TV. In parallel, the Company often expands its portfolio with media services and does so without high cash investments. ProSiebenSat.1 also initially acquires a minority stake in many acquisitions in order to limit financial risks and gain experience on the amount of value an investment adds while complementing the existing portfolio. The M&A strategy is successful because the Group is observing specific investment criteria. ProSiebenSat.1 invests mainly in e-commerce companies that can be marketed efficiently with TV advertising and incorporated synergistically. This is the basis for each investment decision. New investments also need to have business models with a local focus. Verivox is one successful example for this.
Our M&A strategy is both effective and capital-efficient: Within twelve months after the acquisition, Verivox's revenues rose by almost 40 % thanks to marketing on TV. At the same time, we reduced other marketing costs outside TV by almost 20 %. With this investment model, ProSiebenSat.1 is leveraging synergies that exceed usual efficiency and revenue potential in the industry. This is an important basis for long-term organic growth in the digital business.
We are establishing a Lifestyle Commerce ecosystem and are thus offering a holistic shopping experience: Digital commerce is growing dynamically worldwide in the double-digit percentage range. However, digitalization is not only driving e-commerce, but also creating the conditions required in order to integrate value-adding processes using various platforms and distribution channels. For instance, viewers can already obtain product information with their remote control thanks to HbbTV, an online-based TV technology. The Group is leveraging this potential by establishing a commerce ecosystem about living a healthy lifestyle.

ProSiebenSat.1 already has various health, nutrition, wellness, fashion and fitness offers and successfully sells these on digital platforms. The Group is now embedding these lifestyle offers into a holistic commerce ecosystem and linking it to its entertainment offerings. The idea that lies behind this strategic measure is to accompany consumers throughout the customer journey — for instance, from the ProSieben show "Germany's Next Topmodel — by Heidi Klum," to fitness offers on 7NXT and online shops, such as the online perfume shop flaconi.de. The next step is to complete the value chain with stationary sale and offer more own physical products. This is why the Group invested in WindStar, for instance, which is a leading provider of health products.
For this omnichannel approach, the retail chain for health and well-being items is particularly well suited because of its high affinity with TV as an advertising medium. In addition, these products reflect the demographic focus of our TV stations. We are benefiting from our networking potential in two ways. In the future, TV advertising will be more targeted in relation to the context or even in a personalized way. This is because we are not only creating cross-media links. With our e-commerce portals and digital entertainment offers, we are able to gather extensive knowledge about consumers in this way. As a result, we provide our advertising customers with added value and assist them with the addressability of advertising.
Content Production & Global Sales Segment
The Red Arrow Entertainment Group complements our value-adding processes. This company develops, produces and sells programs. Red Arrow is a global company, but it focuses on the US. In addition to high revenues, the USA is also strategically relevant for Red Arrow because TV content in English can be sold more easily around the world.
We are expanding our business with a focus on the US and consolidating our portfolio: Households in the US currently receive over 200 channels. This includes a wide range of stations with a focus on particular interests. Another increasingly important revenue market is emerging at the same time due to digital streaming portals. As a result, the potential customer group of the Red Arrow Entertainment Group is growing, especially in the USA. Red Arrow is present with nine companies in the US and generated over 70 % of its dynamically growing revenues in 2016.
Now, our aim is to consolidate and expand the existing business with long-term customer relationships. The partnership with Amazon can be used as an example in this context: Red Arrow is producing the fourth season of the crime series "Bosch" for the digital platform and has created a format with growing revenues in this way. At the same time, we are aiming to make even better use of synergies within the Group. To achieve this, the Company will increase its share in in-house productions on TV stations. In 2016, Red Arrow had a production share of 12 % with regard to local formats of ProSiebenSat.1's stations. This is strengthening the revenue basis and organic growth of this segment.
We are leveraging synergies within the Group with a digital content production ecosystem: Red Arrow has an increasingly digital focus in its portfolio and is benefiting from interaction within the Group. The next step is to establish a holistic digital content production ecosystem through Red Arrow.
By networking its investments and producing or offering successful formats that are bundled by topic for use on various platforms, the efficiency of its investments has increased. In this context, Red Arrow also founded Ripple Entertainment in recent months. This US company produces digital entertainment and will also develop content that will be distributed via ProSiebenSat.1's MCN, Studio71. As a result, the Group has laid an important foundation in order to expand the program supply of digital platforms with attractive content.
Financial Targets
Revenue and Earnings Targets
ProSiebenSat.1 Group is growing dynamically and has been consistently advancing the Group's digital development since 2009. This strategy has made us successful because we have not only achieved but also exceeded our revenue and earnings targets multiple times. Consolidated revenues have grown by 10 % every year since 2009, while recurring EBITDA have increased by an average of 11 % at the same time.
In October 2016, the Company recently increased its medium-term financial targets. These adjustments reflect the growth contributions from recent acquisitions. ProSiebenSat.1 aspires to increase consolidated revenues to EUR 4.5 billion by the end of 2018. This is EUR 300 million more than originally expected, corresponding to an increase of EUR 2.15 billion as against 2012. All segments will contribute to this increase (Fig. 28). At the same time, ProSiebenSat.1 is seeking to increase adjusted EBITDA by EUR 400 million to EUR 1.15 billion (previously: EUR 1.10 billion).
Although the individual segments differ with regard to their underlying profitability, however they will all drive the positive earnings developments. At the same time, the revenue profile is changing due to diversification. ProSiebenSat.1 is seeking to generate over 50 % of its consolidated revenues outside the TV advertising business by 2018 (2012: 23 %, 2016: 47 %). The Group is diversifying its revenue model, particularly via its e-commerce investments, and also gaining access to new markets with additional revenue potential. In 2016, the Digital Ventures & Commerce segment made the highest contribution to revenue growth and is expected to contribute EUR 1.172 billion to consolidated revenues in the medium term. The digital business as a whole will contribute over EUR 1.7 billion in revenues in 2018.
These financial targets reflect our vision and strategic focus to expand digital offers and position the Group as a leading entertainment & commerce powerhouse. With cross-linking, we are marketing our offers on different media and we are omnipresent and able to unlock potential arising from synergies.
Financing Policy
We measure the success of our growth strategy using revenue and earnings' targets that are determined for all segments. ProSiebenSat.1 Group has also set clear financial guidelines for M&A measures. Firstly, these result from the target range for leverage. Secondly, the Group pursues an earnings-oriented dividend policy.
The distribution ratio is based on underlying net income and has been between 80 % and 90 % over the last five years. Due to the significant growth in earnings, ProSiebenSat.1 has posted an annual average increase in its dividend payments over the last five years of 12 % (CAGR). The Group has also intensified M&A activities at the same time. The leverage ratio has constantly been within the defined benchmark range of 1.5 to 2.5.
Our financial strategy provides for ongoing assessments of the capital structure. In this context, the Group increased its share capital by around 6.5 % in November 2016. This capital increase has given the Group additional financial headroom for larger strategic acquisitions in the digital sector. Funding needs for acquisitions made in the past financial year were covered with cash and cash equivalents.
In addition, the media volume on digital platforms and on TV stations in particular represents a second investment currency for ProSiebenSat.1. By using media, the Group is able to establish new brands with relatively low marketing expenses and without high cash investments while accelerating companies' growth at the same time. As a result, ProSiebenSat.1 is growing not only very profitably; the Group is also achieving a high interest on the purchase price of its investments.
Planning and Management
ProSiebenSat.1 has a management system based on key figures. This forms the basis for all economic and strategic decisions. Company-specific key performance indicators (KPI) are derived from the Group's strategy and cover both financial and non-financial aspects (Fig. 29). They are planned and managed centrally by the Executive Board of ProSiebenSat.1 Media SE. The planning and management process is complemented by the monitoring of key figures on the basis of regularly updated data. This also includes the assessment of developments as part of opportunity and risk management.
Intragroup Management System
The performance indicators specific to ProSiebenSat.1 are aligned to the interests of the capital providers and cover financial planning as well as aspects of comprehensive revenue and earnings management.
Overview of relevant key performance indicators (Fig. 29)

Non-financial performance indicators

Broadcasting German-speaking segment
> Audience shares

Financial performance indicators

Group
> Revenues
> Recurring EBITDA
> EBITDA
> Underlying net income
> Leverage
Broadcasting German-speaking and Content Production & Global Sales segments
> External revenues
> Recurring EBITDA
Digital Entertainment and Digital Ventures & Commerce segments
> External revenues
> Recurring EBITDA
> EBITDA
Non-financial performance indicators: The development of audience shares is a key criterion in programming and media planning in the core business of advertising-financed television. At the same time, the Group is using its advertising reach to establish new brands and expand its portfolio with digital business sectors. In Germany, TV usage data is collected by GfK Fernsehforschung on behalf of Arbeitsgemeinschaft Fernsehforschung (AGF). ProSiebenSat.1 analyzes viewer ratings that have been empirically collected by the institutions on a daily basis; these form the basis for program planning. In addition, this data is used as a benchmark for the calculation of advertising time prices since this indicates the number of potential customers a broadcast is able to reach.
Financial performance indicators: Revenues and recurring EBITDA are the central key figures used to manage profitability. The key earnings figure recurring EBITDA stands for recurring earnings before interest, taxes, depreciation and amortization. Significant effects, such as costs related to M&A transactions, reorganizations and legal claims, are not taken into account so that this figure provides the Executive Board as the chief operating decision maker with the appropriate performance measure to assess the operating profitability of the Group and the segments respectively.
The underlying net income also measures the Group's operating performance and provides a suitable indicator for calculating the dividend. The underlying net income represents the adjusted consolidated net profit after non-controlling interests; the effects of purchase price allocations and other reconciling items are not taken into account in the calculation. We pursue an earnings-oriented dividend policy with the aim of distributing 80 % to 90 % of underlying net income every year.
Reconciling items can influence or even overshadow operating performance and can make a multi-year comparison difficult. Therefore, adjusted earnings figures constitute suitable measures of performance with regard to sustainable profitability. However, the analysis of unadjusted key earnings figures provides a holistic view of the expense and income structure. For this reason, ProSiebenSat.1 Group also uses EBITDA as a financial performance indicator. In addition, EBITDA facilitates international comparison, as it does not take into account the effects of taxes and depreciation and amortization or the financing structure. Internally, EBITDA serves as a performance indicator both at Group level and for the Digital Entertainment and Digital Ventures & Commerce segments. These two segments are growing dynamically; combined, they most recently generated 32 % of total annual consolidated revenues (previous year: 26 %) and 21 % of Group EBITDA (previous year: 17 %).
ProSiebenSat.1 Group is investing in markets with long-term growth opportunities and examining options to expand its portfolio. Part of the investment strategy is the acquisition of companies that complement our value chain synergistically. A capital-efficient leverage ratio is a key performance indicator for the Group's financial planning. The leverage ratio indicates the level of net financial debt in relation to LTM recurring EBITDA — i.e. EBITDA adjusted for reconciling items that ProSiebenSat.1 Group has generated in the last twelve months (LTM = last twelve months). The target value is a ratio between 1.5 and 2.5.
Our Group strategy is designed for sustainable and profitable growth. A primary objective is therefore to increase the above earnings figures through continuous revenue growth in all segments. The business units operate mainly as profit centers, which means that they act with full responsibility for revenues and earnings. At the same time, this results in flexibility, which is an important element for ProSiebenSat.1's success, as the Company operates in a dynamic industry environment and is consistently diversifying its value chain. The organizational entities reach operating decisions independently within a centrally adopted framework based on the competitive environment. This performance-based approach supports entrepreneurial activities among our employees on all levels.
With their knowledge and ideas, every employee of our Company is contributing towards the development of ProSiebenSat.1's strengths while driving innovation. We are therefore systematically investing in human resources development and targetedly promoting young staff while giving all employees an appropriate share in the Company's success. While recurring EBITDA is the key indicator for the Group and its segments, EBITDA also serves as a performance indicator and a basis for measuring performance-based employee compensation thanks to the holistic view of the Company's expense and income structure. Net financial debt and EBITDA of the Group and external revenues and EBITDA in the Digital Entertainment and Digital Ventures & Commerce segments serve as a variable basis for determining the Executive Board's compensation. By harmonizing the Executive Board's compensation with our KPI for corporate management, we implemented a holistic and effective management system, which reflects the company-specific characteristics. Further information about the individual compensation of Executive Board members can be found in the "Compensation Report", while the basics of reporting principles are explained in the chapter "Explanatory Notes on Reporting Principles".
Operational and Strategic Planning
Management and planning are closely intertwined at ProSiebenSat.1. Target figures are defined and determined for various periods within the context of planning, with a focus on the management indicators outlined above.
The diagram below shows the individual planning levels for the financial year 2016 (Fig. 30). The different levels in the planning process — strategic planning, multi-year planning, budget preparation and monthly reporting — build on each other and are closely linked to our risk management.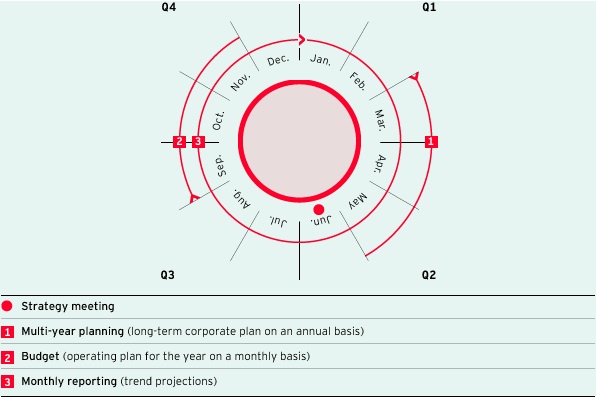 Strategy meeting: Analyses of strengths and weaknesses are an important strategic planning instruments. Market conditions and current key figures for relevant competitors are compared, the Company works out its own strengths, opportunities and risks are assessed and growth strategies are developed. Once a year, the Executive Board and the Supervisory Board discuss the results at a strategy meeting.
The Group pursues a consistent growth and diversification strategy aimed at strengthening the core business of television and leveraging synergies by linking the advertising business to the dynamic development of the digital business. Nothing changed here in 2016; however, individual requirements were prioritized and redefined at the strategy meeting. The strategy meeting took place in June. In October, the Group once again increased its medium-term growth targets as part of the Capital Markets Day.
Multi-year planning (long-term corporate planning on an annual basis): Multi-year planning constitutes a detailed quantitative depiction of strategic planning. This is done on an annual basis and contains targets for a five-year period. The relevant key financial figures from the income statement, statement of financial position and statement of cash flows of individual subsidiaries are analyzed and aggregated at segment and Group level.
Budget (operating plan for the year on a monthly basis): Multi-year planning in turn forms the basis for the budget. The budgeted figures are also calculated in a bottom-up process and the targets for the individual financial and non-financial performance indicators are specified on a monthly basis.
Monthly reporting and trend projections: Trend projections are an important tool in planning during the year. They allow the Company's expected performance for the year to be calculated on the basis of the targets achieved to date and to be compared with the target figures that were originally budgeted. The aim is to identify potential discrepancies between the target and actual figures immediately and to implement the necessary countermeasures promptly.
In 2016, the Executive Board and the Supervisory Board also discussed short-term and long-term targets. In addition to monthly reporting, potential risks are reported to the Group Risk and Compliance Officer on a quarterly basis. In particular, any changes to the early warning risk indicators during the year and over time are analyzed here. For example, the development of audience shares is an important early warning indicator. Additional growth opportunities and therefore potential positive deviations from projected targets are analyzed in parallel with risk management; they are taken into account in budget planning (Fig. 31).