Sustainability
For us, sustainability means the holistic and lasting development of ProSiebenSat.1's economic, environmental and social performance.
In September 2016, ProSiebenSat.1 published a separate report on all key aspects of sustainability for the first time. We also disclosed the CO2 emissions of our climate assessment in this report.
The Group uses the wide reach of its media offerings to focus on important ecological, societal and sociopolitical issues.
Corporate Responsibility
At ProSiebenSat.1, information on ESG and sustainability aspects is in the area of responsibility of the CFO.
Organizational advantages, own brands, stable customer relations and human resources potential are important success factors that for the most part are not measured financially. On the other hand, we capitalize certain internally generated intangible assets at a low level. Further information can be found in the Notes.
ProSiebenSat.1 Group's most important corporate objective is to grow profitably and sustainably. We recognize the interests of our internal and external stakeholders and pay particular attention to our employees and their concerns. We believe in the fact that commercial success can be measured not just by financial results, but also by how we fulfill our corporate responsibility. Moreover, we are convinced that commercial enterprises identifying opportunities and risks in the field of sustainability at an early stage can better prevail in competitive markets. ProSiebenSat.1 Group therefore sees sustainability as an approach that secures the holistic and lasting development of the Company's economic, environmental and social performance (Fig. 32).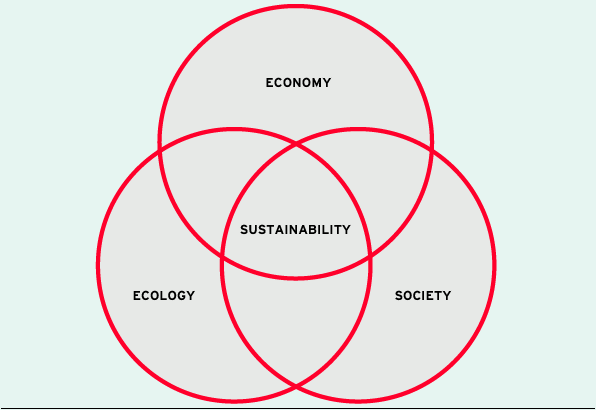 Sustainability Management and Reporting
Last year, ProSiebenSat.1 Group published a separate report for the first time dealing with all dimensions of sustainability and the key aspects of sustainability for the Group. It was titled "Our Responsibility — Public Value and Sustainability at ProSiebenSat.1 2015/2016." Together with the Annual Report, this publication offers a comprehensive depiction of our corporate performance on the basis of financial and non-financial information. The report follows the fourth generation (G4) guidelines of the Global Reporting Initiative (GRI). When defining the report content, we observed the principles of "stakeholder inclusiveness," "sustainability context," "materiality" and "completeness." We took general sustainability information and sector-specific disclosures according to the Sector Supplement for the media sector as a basis and prioritized them with regard to their relevance to ProSiebenSat.1's business model.
Since the report was published in September 2016, we have further enhanced our sustainability management and the reporting processes in the Group and increased the transparency of our sustainability work. We have therefore defined concrete measures that we have already implemented or will implement in 2017. For example, we see improving the quality of our carbon footprint at all levels of the organization as an ongoing process in order to guarantee comprehensive and open communication and to meet the requirements of our stakeholders. We will publish the next Sustainability Report in June 2017 and describe our sustainability activities in the financial year 2016 in their entirety therein.
Areas of Action for Sustainability
ProSiebenSat.1 performed the first materiality analysis of its sustainability activities in 2015 and enhanced this analysis in 2016, comprehensively identifying potential sustainability issues and relevant stakeholders and narrowing down the universe of topics. As a next step, we arranged the issues along our individual value chain and defined priority criteria. The aspects thus derived are synthesized into five areas of action (Fig. 33).
Public Value
Back in 2011, the Group placed its public value activities in a larger social context and established an Advisory Board. The interdisciplinary body chaired by Bavaria's former minister president Dr. Edmund Stoiber advises ProSiebenSat.1 Group on relevant social, ethical and media-political issues and provides impetus on important topics such as education and culture. In 2016, the Advisory Board met three times. Members of the Executive Board as well as other decision-makers in the Group participated in these events. With a view towards ProSiebenSat.1 Group's young audience target group, the Advisory Board continued to prioritize the issue of "digital education" in its work. In this context, the schools competition SchoolsON was again held last year.
Our reach as a media corporation plays a decisive role for the sustainability activities. ProSiebenSat.1 Group reaches around 42 million households every day with its TV stations and more than 30 million users per month via its web offerings. The distributed content helps to shape the opinions of viewers and users. We are aware of this responsibility and we use the wide reach of our media to shine a spotlight on important ecological, social and political issues. We pursue four goals: We want to build knowledge, offer opportunities, communicate values and promote culture. Extensive information on the various projects can be found in the "Our Responsibility — Public Value and Sustainability at ProSiebenSat.1 2015/2016" report and on the special pages on this topic in this Annual Report.
Governance and Compliance
For the Executive Board and Supervisory Board of ProSiebenSat.1 Media SE, good corporate governance is an essential component of responsible, transparent management and control oriented to long-term value creation. The basic rules for the dual management and supervisory system are defined in ProSiebenSat.1 Media SE's articles of incorporation and in the rules of procedure for the Executive Board and Supervisory Board. The German Corporate Governance Code (Deutscher Corporate Governance Kodex — DCGK) also establishes a standard for transparent control and management of the Company, which is particularly aligned to the interests of the shareholders. In addition to efficient structures and processes for good governance, ProSiebenSat.1 Group places great value on openness and clarity in communication. This is an important requirement for preserving and increasing the confidence of external stakeholders and our employees in the Group.
The "Guidelines for Ensuring Journalistic Independence" of ProSiebenSat.1 can be viewed on the corporate website and specify the understanding of the journalistic principles set forth in the Press Code of the German Press Council.
ProSiebenSat.1 Group also follows a policy of compliance. The prevention of corruption and violations of antitrust and media law are important factors for a successful market position and the attainment of corporate objectives. Due to the increasing digitalization of the Group's business operations, data protection and the associated preservation of personal rights also form a central pillar of the compliance-management system. ProSiebenSat.1 Group has therefore set down fundamental guidelines and procedures in its "Code of Compliance", which was revised in 2016. The guidelines define the general standards for conduct in business, legal and ethical matters and also govern how employees can safely report misconduct in the Company.
Further information on governance and compliance at ProSiebenSat.1 can be found in the report "Our Responsibility — Public Value and Sustainability at ProSiebenSat.1 2015/2016." In addition, we report on these sustainability aspects in the "To Our Shareholders" section of this Annual Report.
Digitalization and Innovation
ProSiebenSat.1 Group has been rigorously pushing ahead with its transformation from a traditional TV company into a digital corporation with a diversified business portfolio since 2009. The key strategic objective is to secure the Group's economic sustainability and profitable growth in a changing environment. For this purpose, the Group is developing new business models, tapping into additional, dynamically growing business areas and using innovative technology. We report comprehensively on the relevance of digitalization and innovation for the Group in the report "Our Responsibility — Public Value and Sustainability at ProSiebenSat.1 2015/2016" and in selected chapters of this Annual Report.
Climate and Environmental Protection
As a media company, ProSiebenSat.1 is not part of the energy-intensive manufacturing industries that use a lot of resources and have complex, global supply chains. For this reason, we have not identified any financial consequences of climate change for our business activities at present. Nonetheless, we also see climate and environmental factors as material for us and our stakeholders both universally and in connection with our value creation. We are therefore helping to slow down climate change and conserve our environment by carefully using resources and reducing our energy consumption and CO2 emissions through targeted measures. Back in 2012, we switched the power supply at our headquarters in Unterföhring near Munich to green electricity. The climate and environmental protection measures are complemented by our involvement in the field of ecology. Thanks to our wide reach among TV viewers and Internet users, we can effectively communicate climate and environmental issues and thus raise awareness of the sustainable use of resources among a broad audience.
In the "Climate and Environmental Protection" action area, we calculated ProSiebenSat.1 Group's carbon footprint for the first time for the financial year 2015 and subjected our emissions to an external review. We published the results as part of our reporting on public value and sustainability in September 2016. ProSiebenSat.1 Group was recognized for its climate reporting in October 2016 with the "Best Improvement Award Germany (non public)" in the "CDP climate score" category. Every year, the non-profit organization CDP assesses companies' climate protection performances on behalf of 800 institutional investors with invested capital totaling around USD 100 trillion according to own data.
We will publish the CO2 emissions of our climate assessment for 2016 in the upcoming Sustainability Report 2016. The publication is scheduled for June 2017. It will disclose direct greenhouse gas emissions (Scope 1), indirect greenhouse gas emissions (Scope 2) and greenhouse gas emissions from upstream and downstream stages of the value chain (Scope 3). ProSiebenSat.1 is continuously working on integrating all sources of CO2 emissions into the data collection. In the future, we will strive to increase the coverage of measured activity data in order to improve the accuracy of the reported carbon footprint. For internal purposes, this allows the monitoring of environmental performance at different levels and the comparison and benchmarking of individual areas of ProSiebenSat.1 Group with competitors. For the Sustainability Report 2016, we are also planning to expand the coverage of Scope 3 emissions, especially with regard to business models specific to ProSiebenSat.1 Group.
Alongside greenhouse gas emissions, we will also describe ProSiebenSat.1's energy consumption and activities in the field of mobility in the next Sustainability Report. In addition, the Group will report in detail on the renovation of the campus in Unterföhring and the planned sustainability certification according to the LEED model.
Employees and Diversity
Our employees are the basis of our economic success. With their talent, creativity and commitment, they ensure that ProSiebenSat.1 remains competitive. We support them with a sustainable and responsible human resources strategy. As a digital media company, ProSiebenSat.1's corporate culture is characterized by an unfaltering willingness to change and innovate. We thus offer our employees an exciting working environment with lots of creative leeway. We support this process with numerous human resources measures. In addition, ProSiebenSat.1 values and respects the individual characteristics of its employees as an important part of the corporate culture. We are convinced that our ability to compete in the future is significantly dependent on how we promote and use this diversity. Detailed information on strategic HR work, employee key figures, diversity management and other human resources issues can be found in the corresponding section of this Annual Report.
Research and development (Fig. 34)
ProSiebenSat.1 Group does not carry out research and development (R&D) in the conventional sense of an industrial company. Therefore, the activities in this area do not fulfill the traditional definition of R&D, so more detailed information according to DRS 20 is not included in the management report.
Nonetheless, Research does hold a position of high importance at ProSiebenSat.1 Group. We conduct intensive market research in every area relevant to our business activities and in every area in which the Company sees growth potential. In 2016, expenses for Group-wide market research activities amounted to EUR 7 million as in the previous year. The various research units prepare investigations and analyses on advertising impact, on trends in the advertising market and digital industries as well as on media use and also assess economic and market projections. Those responsible in the Group use the results of the market analyses for operational and strategic planning. At the same time, market data and analyses are an important basis for competently advising our advertising clients. With its studies, the Company provides advertisers with valuable knowledge for marketing and advertising planning, which constitute an important basis for investment decisions.
In the program development phase, program research also plays a decisive role. An important task is the assessment of international TV trends with regard to their potential for the German TV market. In addition, the research team regularly provides quantitative and qualitative studies and analyses of the ProSiebenSat.1 stations' programming. Among other things, new formats are tested with the aid of survey and audience screenings. Besides, the research department also carries out ad hoc tests on shows that have already been broadcast. Based on the results, we can adjust formats in the development phase and optimize TV-programs that have already been broadcast, thus increasing success rates.