Public Value 2016
We reach many millions of people every day with our TV stations and digital platforms. We see this as an opportunity — but also an obligation to take responsibility. We make use of the reach of our media to draw attention to important ecological, social and political issues. In doing so, we pursue four goals: We want to offer opportunities, promote culture, communicate values, and build knowledge.
RED NOSE DAY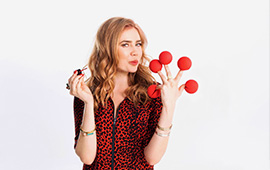 In May 2016, the 14th "RED NOSE DAY" took place on ProSieben. Jérôme Boateng, Palina Rojinski, Annemarie and Wayne Carpendale and many other celebrities called on viewers to donate for children in need. We also designed 50 exclusive products with popular web stars for the first time and sold them through the RED NOSE DAY online shop. In addition, our employees raised over EUR 3,000 as part of in-house campaigns. ProSiebenSat.1 has raised nearly EUR 12.3 million in Germany for RED NOSE DAY since it started in 2003.
DIE ARCHE (The Ark)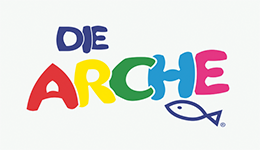 In 2016, the proceeds from RED NOSE DAY were used for "Die Arche", the children's and youth charity's first ranch: With this donation, the initiative financed the renovation of an old farm and the first animals were also bought. "Die Arche" offers support and education to disadvantaged children and young people at more than 20 locations in Germany. ProSiebenSat.1 has been supporting "Die Arche" since 2008.
JUNGE HELDEN (young heroes)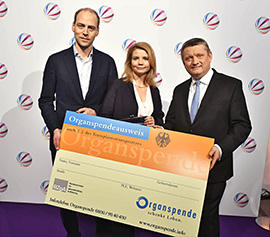 On March 8, 2016, SAT.1 mainly focused on the topic of organ donation. This topic was featured in SAT.1 Magazin and the station broadcast the event documentary "Bei Anruf Herz — Letzte Chance Organspende" and the award-winning TV drama "Zwei Leben. Eine Hoffnung." In this show, Annette Frier fights for her patient's life as a transplant surgeon. Together with the "Jungen Helden" association, the Ministry of Health, the German Organ Transplantation Foundation (Deutsche Stiftung für Organtransplantation — DSO) and the production company UFA FICTION, the station drew the public's attention to this difficult social issue. This was a success: On the day of the broadcast, 96 % more calls were made to the DSO's info hotline.
BUSINESS@SCHOOL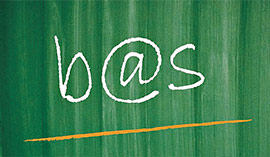 Since 2015, ProSiebenSat.1 Group has been supporting The Boston Consulting Group's "business@school" education initiative. The campaign is aimed at strengthening the link between business and pupils. Over a period of one year, ProSiebenSat.1 employees coach pupils from 10th to 12th grade at two high schools in Munich and give advice and support. In this context, pupils not only acquire methodological skills and knowledge, but also a stronger entrepreneurial spirit. In the final phase of the program, participants then develop their own business idea and business plan. A national expert jury chooses the best projects.
startSOCIAL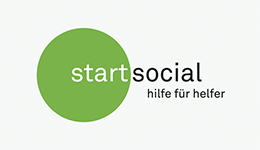 With "Help for Helpers" as its theme, "startsocial" supports selected social projects with expertise instead of money. This is because many people may have some good ideas to resolve social issues, but often come up against problems when trying to implement them. This is exactly what experts in business, the public sector and social institutions are seeking to avoid. During the competition, they assist these enthusiastic founders with support and advice. Following a three-month coaching phase, a jury selects the best 25 projects from a total of 100. Seven of these are presented with an award from patron and German chancellor Angela Merkel. Since 2001, ProSiebenSat.1 Group has been supporting the competition as a co-founder. Our employees are also supporting startsocial scholarship holders as coaches.
WE HELP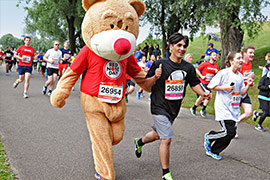 With the "WE HELP" project group, ProSiebenSat.1 employees in Germany are supporting refugees. In 2016, they collected more than 100 boxes with clothing and sanitary items during fundraising campaigns for the Bayernkaserne facility. Our employees also ran for this good cause during six corporate runs across Germany. For every kilometer run, they received cash donations from the Group and achieved an amount of EUR 41,000. At the invitation of ProSiebenSat.1, some refugees assisted the Munich team for the first time. Among others, the Group will also provide multimedia equipment for a refugee center that is being built in Unterföhring, where the Company is based.
GREEN SEVEN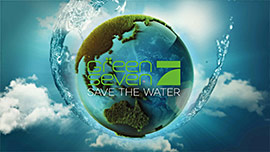 During the annual "Green Seven"-theme week, ProSieben uses its large reach to convince young viewers in particular to adopt a sustainable and environmentally friendly lifestyle. This has taken place for the eighth time already: From July 11 to July 17, 2016, the station urged viewers to handle this precious resource responsibly with "Save the Water" as its theme. In addition to the "Green Seven Report: Save the Water — Der weltweite Kampf ums Wasser", various ProSieben magazine programs reported on this elixir of life worth protecting. ProSiebenSat.1 also honors environmentally innovative projects and ideas every year with the "Galileo Wissenspreis" at the GreenTec Awards.
SOCIAL DAYS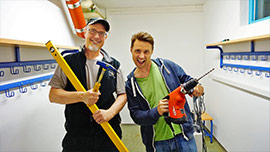 With the Social Days ProSiebenSat.1 employees have the opportunity to do good together. Since 2013, they have been helping out for a day at various social institutions in Munich. On May 12 and October 13, 2016, we also gave the clothing store of the Bayernkaserne Freimann facility a helping hand. In addition, we organized a sports and games day at the Munich support center for physically disabled people and embellished the garden of a home for blind women. 361 employees have so far taken part in the campaign to support charities and people in difficult life situations.
EVERDAY HEROINES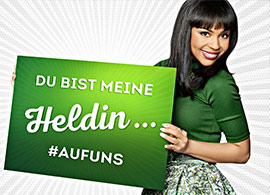 To celebrate International Women's Day on March 8, 2016, sixx focused on a very special topic for a week with its "Day of the Heroines." With a selection of fiction and factual formats, such as the "Like us — Unsere 30 größten Heldinnen" ranking show, the women's channel honored strong women in the areas of film, music and politics. But this was not only about women in the spotlight: With a nationwide postcard campaign, sixx invited viewers to write a message to their personal everyday heroines, honoring mothers, daughters, aunts and female colleagues.
SCHOOLS ON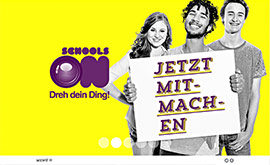 Together with the German Children and Youth Foundation (Deutsche Kinder- und Jugendstiftung), ProSiebenSat.1 invited viewers to take part in the second edition of the "SchoolsON" video competition. With "Film to Win" as its theme, pupils and apprentices were given the opportunity to produce creative video clips for the "taff," "Galileo" and "ProSieben Newstime" TV formats. ProSiebenSat.1 broadcast the best clips on TV. In addition to a visit to the station group, the winners received a GoPro camera and video editing software for their next film. The initiative is aimed at strengthening the media skills of young people and teaching them how to handle video content responsibly.
SUPPORTING YOUNG FILMMAKERS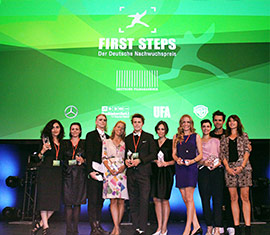 ProSiebenSat.1 Group supports film academies across Germany, making it easier for young talents with many projects to start out in the industry. Every year, outstanding films by graduates receive the "FIRST STEPS Award" which was founded by us and other partners. It is the most prestigious award of its kind, with prize money worth EUR 92,000. On September 19, 2016, it was awarded for the 17th time in Berlin. With the "Young Lions" initiative, the station group also supports young talents at the Film Academy of Baden-Württemberg. Since 2015, the Group has been supporting budding filmmakers with expertise, financial resources and time slots.